Rival US presidential candidates John McCain and Barack Obama gave a time-out to their contentious race tonight, appearing together at the Alfred E. Smith charity dinner at the Waldorf Astoria hotel in New York City, where they playfully roasted each other, and themselves.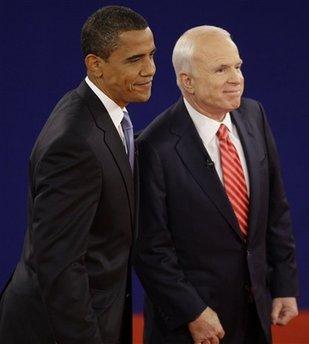 John McCain spoke first, saying that Oprah Winfrey refers to Barack Obama as "The One," but, "being a friend and colleague of Barack, I just called him 'That One.' He doesn't mind at all. In fact, he even has a pet name for me — 'George Bush.'"
The Arizona senator also referred to the now-infamous "Joe the Plumber" who came up repeatedly in last night's debate: "Events are moving fast in my campaign and it's true that I dismissed all of my senior advisers. All of their positions will now be held by a man named Joe the Plumber."
When Obama was up, he too made a few jokey gestures towards McCain's camp. He addressed the grandson of Alfred E. Smith, saying, "I obviously never knew your grandfather but from everything Senator McCain has told me the two of them had a great time together before Prohibition."
The senator from Illinois also took a shot at McCain running mate Sarah Palin: "I do love the Waldorf Astoria — I hear that from the doorstep you can see all the way to the Russian tea room."
One of the highlights of Obama's speech, however, was when he noted, "Contrary to the rumors you might have heard, I was not born in a manger. I was born on Krypton and sent here by my father Jor-El to save the planet Earth."
Putting politics aside, if only for one night, both senators ended their speeches by praising their opponent, and both laughed heartily at the other's jokes.
McCain praised Obama for his "great skill, energy, and determination. It's not for nothing that he's inspired so many folks in his own party and beyond," he said of his rival, bidding to become the nation's first black president. "I can't wish my opponent luck but I do wish him well."
Obama said few Americans had served their country with "the same honor and distinction" as McCain, a former Navy pilot who was a prisoner of war for more than five years in Vietnam.
The Alfred E. Smith Foundation was founded in 1946 by a Catholic cardinal in the honor of former New York Governor and philanthropist Alfred E. Smith, who was a patron of the impoverished. The money raised by the dinner and the foundation goes to aid the poor, sick and underprivileged of the Archdiocese of New York.
Comments
comments