Sarah Palin witnessed it first hand this week as Tina Fey engaged in fiction by depicting her at the news conference the Republican vice presidential nominee has yet to hold.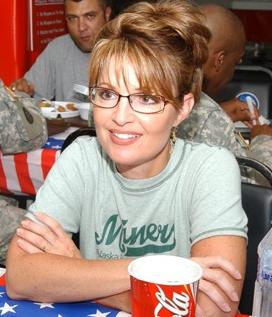 On the show, The Republican vice presidential hopeful showed she could join in on the jokes at her expense.
She played it straight as Fey took her off, bopped to a comical rap and delivered SNL's famous opening line.
The NBC show began with a fake news conference where her spokesman told journalists "no recording devices and don't write anything down."
Tina Fey appeared as Sarah Palin, wearing a fitted red jacket and rimmed glasses, saying: "I am looking forward to a portion of your questions." This statement is a jibe at the way the Republican vice presidential candidate and other politicians have avoided answering a number of questions during the election campaign.
When asked about her views on John McCain and Barack Obama in the last presidential debate, the fake Mrs. Palin replied: "His words are smooth when he's talking, he's like an angel whispering in your ear. He makes John McCain sound like a garbage truck unloading trash at a landfill."
Sarah Palin, who has in the past said she loved Tina Fey's impersonations, was first seen watching the show from the backstage with the show's executive producer Lorne Michaels.
Actor Alec Baldwin joins them, under the impression that Mrs. Palin is Tina Fey.
"This is the most important election in our nation's history and you want her, our Tina, to go out there and stand with that horrible woman?" Mr. Baldwin, a known left-winger, says to Mr. Michaels.
Palin then stood mute as Fey's "30 Rock" co-star, Alec Baldwin came onto the stage, mistook Palin for Fey and pleaded with Michaels not to let the actor go onstage with the governor. "This is the most important election in our nation's history and you want her, our Tina, to go out there and stand with that horrible woman?" Baldwin said.
When Michaels broke down and introduced him to Palin, Baldwin feigned embarrassment and replied, "I see. Forgive me. I feel I must say this: You are way hotter in person." Palin got even by saying, "Thank you, and I must say, your brother Stephen is my favorite Baldwin brother. "
Mrs. Palin comes on stage to replace her mimic, who swiftly exits when she sees her, saying: "I'm not going to take any of your questions. But I wanted to take this opportunity to say, "Live from New York, it's Saturday Night."
There is a dancing moose scene, Sarah Palin is seen bopping in her chair as cast member Amy Poehler raps a song which the vice-presidential candidate said would hurt her election campaign if she performed it herself.
During the song, Eskimos, an impersonator of her husband Todd and a large moose dance on stage.
At one point, Mrs Poehler shoots the moose who falls to the ground, a jibe at Mrs Palin's passion for hunting and fondness for guns.
The BBC's correspondent in Washington, Rajini Vaidyanathan, says Gov Palin's performance on the show was in many ways what you would expect from a politician running for office.
The best and most risque gags were delivered by actors and SNL cast members, rather than by Sarah Palin herself, she says.
Our correspondent adds that Mrs Palin played the role of the comedy sidekick in the show, but did come across as someone who did not take herself too seriously and was happy to laugh at the jokes made at her expense.
Fey's spoof Sarah Palin has done wonders for Saturday Night Live's viewing figures.
Ratings for the show have gone up, averaging 8.3 million viewers, and the sketches are drawing as many as 9.3 million hits online.
It is not clear whether Republican presidential candidate John McCain watched the show, but earlier in the day but it was reported that he thought Tina Fey and his running mate were "separated at birth".
Comments
comments