Paris Hilton expressed her desire to campaign against "that wrinkly white-haired guy" and threatening to paint the White House pink if elected.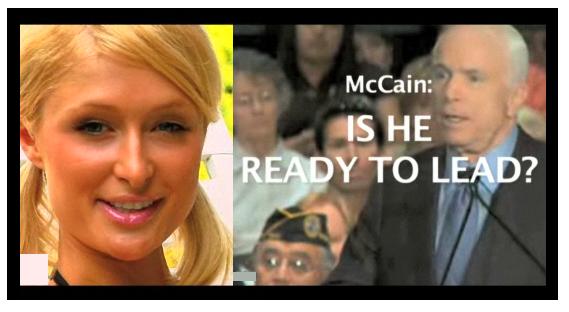 The hotel heiress responded to Republican candidate John McCain's controversial use of her image in a campaign television spot last week with a satirical ad of her own posted on the website Funnyordie.com.
In the ad, the 27-year-old singer appears reclining on a sun lounger beside a swimming pool, dressed only in a skimpy leopard-print bathing costume.
Paris Hilton said: "Hey America, I'm Paris Hilton and I'm a celebrity too. Only I'm not from the olden days and I'm not promising change like that other guy. I'm just hot! But then that wrinkly white-haired guy used me in his campaign ad, which I guess means I'm running for president. So thanks for the endorsement white-haired dude, and I want America to know I'm, like, totally ready to lead."
The "Stars Are Blind" singer offers an alternative US energy strategy and plans of mixing the elements of John McCain and Democratic rival Barack Obama's policy platforms, saying: "We can do limited offshore drilling with strict environmental oversight while creating tax incentives to get Detroit making hybrid and electric cars. … Energy crisis solved, I'll see you at the debates, b***hes!"
The singer continued: "I'm thinking Rihanna. I'll see you at the White House. Oh, and I might paint it pink. Bye!"
In Paris Hilton's spoof campaign commercial, a gravel-voiced narrator takes aim at McCain, asking: "He's the oldest celebrity in the world. Like, super old. Old enough to remember when dancing was a sin, and beer was served in a bucket. But is he ready to lead?"
Adam McKay, who was one of those people that pitched the idea of filming the spot to Paris Hilton, revealed: "She got it that the McCain thing was a low blow. And she felt she didn't want to return it with angry fire, and that this was the best way to respond. It's a playful jab."
Comments
comments