Prince William, who took part in a Africa motorbike charity rally, was at the receiving end of a sound thrashing from an African village XI as his team lost a football match.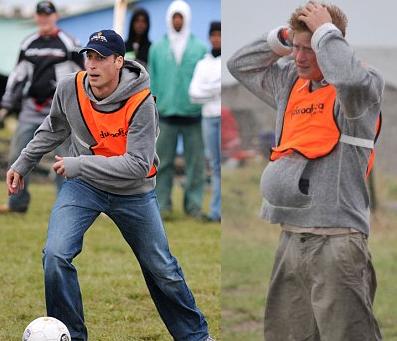 The 26-year-old prince may be president of the Football Association, but his credentials seemed wasted on the players from the Igxarho Location.
Even the efforts of soccer-mad brother Prince Harry failed to stop the blushes as the famous visitors lost 6-2.
At times Prince William appeared decidedly uncomfortable as he and his posh chums were given a lesson in the beautiful game. The prince, who played left back, took tumble after tumble as he tried in vain to block a flood of attacks. And when Prince Harry joined the team things went from bad to worse.
The afternoon came during a rest day for the boys as they reached the halfway stage of their 1,000 mile African motorbike trek.
Prince William and Prince Harry are taking part in the Enduro Challenge along with 80 other riders. Their efforts have already raised more than £300,000 for people living in communities just like the Igxarho Location.
One onlooker said: "[Prince] William looked very clumsy out there. Every time the ball came near him he either fell over or appeared frightened. [Prince] Harry came on towards the end but things didn't really improve much. I don't think any of the village side realized they were playing a game against the president of the FA. If they had known perhaps the score-line would have been even more embarrassing."
As the referee called time, William, shrugged his shoulders and slapped his opponents on the back. The match took place in the small community in the heart of South Africa's Wild Coast. Earlier in the day William and Harry had joined the other riders and rolled up their sleeves to paint a community building as they took a welcome break from their motorbike challenge.
Comments
comments