Prince William took top-class submarine mission after earning pilot's wings.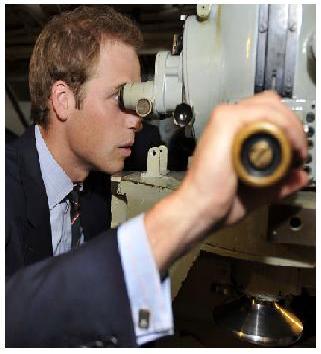 The 25-year-old royal, who's just finished training with the Air Force, inspected a World War II submarine at the Royal Navy Museum in Gosport.
Prince William, who was the patron of a fundraising appeal for the restoration of the vessel, was clearly fascinated by the equipment on board.
The prince, who was sitting at the controls of a submarine, looked like James Bond in his naval Commander days. The future king was, in fact, on a mission – albeit of a different sort to preserve the HMS Alliance for future generations.
The tour of the vessel at Gosport's Royal Navy Submarine Museum was Prince William first engagement as patron of a fundraising appeal to restore the sub, which is the last of its kind in the UK.
Launched in 1945, Alliance was one of 14 'A' class submarines built for service in the Far East, and is now the museum's star attraction.
Prince William, who is on attachment to the Royal Navy after a stint in the Air Force, and holds the honorary title of Commodore-in-Chief, Submarines, emphasized the project was vital to promote understanding of "the past heroism and sacrifice of Britain's submariners".
Comments
comments