Prince William's proposing to girlfriend Kate Middleton in 2009 has odds of 11/8, according to bookmakers William Hill.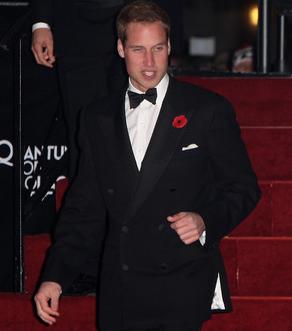 The British public thinks the likelihood of the 26-year-old prince, who has been dating Kate since 2003, after the pair met at Scotland's University of St Andrews, asking the brunette beauty to marry him are very likely.
In September, it was claimed Prince William will not get engaged to Kate for at least another 18 months, and would have to speak with several members of the royal family and the government before going down on one knee, according to a senior member of the Royal Household.
The source revealed: "There is a lot of planning involved in a royal engagement announcement of a member of the family as senior as Prince William."
The source continued: "A number of high-profile people have to be informed formally, and the couple have to be introduced to the Prime Minister of the day, among others. All this takes time."
The source added: "As far as I am aware I cannot see there being an engagement between the prince and Miss. Middleton for at least 18 months."
Prince William's hopeful marriage prospects are not the only ones in the royal family.
William Hill have revealed Prince Harry proposing to his Zimbabwe-born girlfriend Chelsy Davy has odds of 6/1, while Prince Andrew, who was previously married to Sarah Ferguson, the Duchess of York, getting engaged has odds of 50/1.
Rupert Adams, who is William Hill's spokesperson  said: "Every year there are a couple of big odds winners from the bets!"
Comments
comments