Princess Eugenie stunned visitors to a pole-dancing club by arriving with a group of friends at 4am.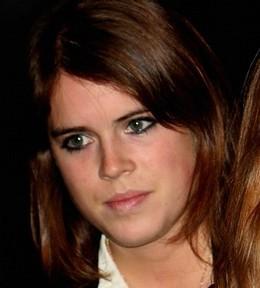 The 18-year-old Princess, who was accompanied by a Royal Protection Officer, spent an hour at the Sophisticats Gentleman's Club in London's West End, where girls charge £20 for a nude dance.
The young princess laughed and giggled as lap dancers performed around her and she even tried to join the gyrating girls on stage.
She and her group, two girlfriends and two young men, ordered a £165 bottle of Bollinger Grande Annee Vintage 1999 champagne during their stay.
They also drank cocktails from the Sophisticats menu, which includes such delights as a Wet Whiskers, consisting of peach schnapps, kaluha, vodka and grenadine.
They ran up a total bill of just over £200 during their visit in the early hours of Friday.
An eyewitness revealed: "She made her way to the stage, where three girls were dancing [email protected] for the customers, and asked one of the staff if she could get up and have a go. But because of health and safety regulations she was told she would not be allowed unless she was employed by the club and had undergone training on the pole, like their dancers. It was all done very tongue-in-cheek and Eugenie took it in good spirits."
A source at the club said: "The last thing anyone expected was for a Princess to turn up unannounced, let alone sit there and enjoy a lapdance for one of her party. It caused quite a commotion when she arrived because other customers were looking over and almost immediately recognized her. She really seemed to be enjoying herself and after her male friend had paid £20 for a lapdance at their table, she got up with her two girlfriends and began dancing by the side of the table to the music. But they definitely kept their clothes on."
The source added: "Throughout their time in there her bodyguard was at the next table watching intently. He did not leave her side throughout the evening and did a thorough, professional job. She knew she had been rumbled because one customer got her autograph as a memento."
After more than an hour at the club, Princess Eugenie and her group left just before it closed at dawn. While her friends walked out of the main exit, the Princess and her police guard slipped out the back.
Comments
comments