Robert Pattinson gets highly expressive on the set of his new film, "Remember Me", shooting on location in Manhattan, New York City on Monday (June 22).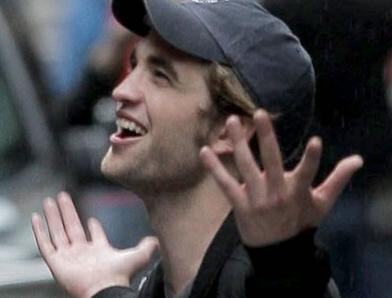 The 23-year-old actor just wrapped some filming for the Twilight sequel, New Moon. He was spotted as he raised his hands up high in the air and welcomes the rain while filming "Remember Me" on Monday (June 22).
At that time, he was sporting a vintage-looking New York Yankee baseball cap.
Remember Me, also starring Lost actress Emilie de Ravin, is a drama centered on two lovers whose newfound relationship is threatened as they try to cope with their respective family tragedies.
Meanwhile, Robert Pattinson has revealed that he thought the part of Edward Cullen was impossible to play when he first auditioned for the part, saying: ""I thought [the role] was possible when I first read it. I got told about it five months before I did the audition, and I was just saying, 'I can't do it, it's an impossible part to play'."
He added: "You can only play it as a kind of two-dimensional, like, blob. You just have to be a man meat. You just come in [to the audition], taking your shirt off, and be some bland thing which people can project whatever they want onto."
Comments
comments