What makes New Moon hunk Robert Pattinson so sexy? How has the Twilight's Edward captured the hearts of gals everywhere? Life & Style calls it the Brit factor (along with several others including a little 'life imitates art' and a creative cutie nod) for the buzz surrounding Rob.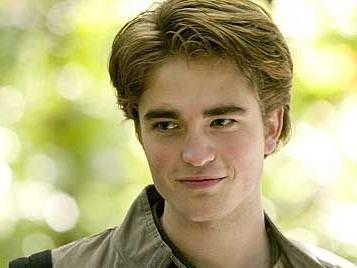 How does he do it? "He's scrawny, famously scruffy and his hair goes everywhere. But there's more to Twilight heartthrob Robert Pattinson than meets the eye. Life & Style bites into the top five reasons why the shy, artistic hunk behind brooding vampire Edward Cullen gets pulses racing," the magazine offers.
1. LIFE'S IMITATING ART – Fiercely loyal and protective, Edward's undying love for Bella Swan captured the hearts and imaginations of Twilight readers everywhere. So Robert, 22, knew he had a lot to live up to when he signed on for the role of the perfect man (actually, vampire) in the movie version of the best-selling novel.
2. HE'S A CREATIVE CUTIE – Such soulfulness comes with being a natural — and passionate — actor, singer and musician. "Rob wasn't trained at drama school in quite the same way as a lot of people," Oliver Irving, who directed Robert in the new movie How to Be, tells Life & Style. "He's much more real."
3. THE BRIT FACTOR – Despite speaking with a flawless American accent in Twilight, this hottie hails from across the pond. "I miss the smell of London," Rob laments. "I almost cried because I missed it so much."
4. HE'S SO MODEST – But if Rob's to be believed, he doesn't have much luck with the ladies. "No one wants to commit," he complains. "I guess I'm not really a chat-up-line guy." Part of the problem? "Rob's kind of shy," explains co-star Kellan Lutz. "He's such a humble guy."
5. JUST LOOK AT HIM! – "He's a good-looking guy," co-star Ashley Greene tells Life & Style. Kristen Stewart, who plays love interest Bella, agrees. "He's pretty sexy," she says. His unkempt hair is a huge part of his attraction. "He never stops touching it," says Kristen. "People love that."
Comments
comments