Ryan Seacrest has taken a pop at Simon Cowell, accusing the stony-faced judge of overdoing the botox.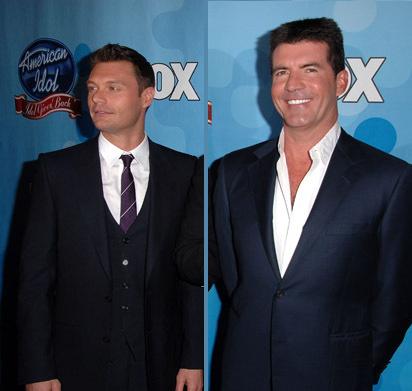 It has been observed that the X Factor judge Simon Cowell can't show emotion because of Botox injections.
American Idol host Ryan Seacrest discussed the absence of Cowell's infamous frown on The Ellen DeGeneres Show. The U.S. presenter claims that X Factor judge's blank expression has nothing to do with boredom or utter disinterest – the true reason behind the mono-mug is too many facial injections.
Ryan Seacrest mocked Simon's use of botox on the Ellen DeGenres Show saying: "You wouldn't know (if he's angry) because of all the shots. The angry face is the same as the happy face."
The two television personalities work together on American Idol and often enjoy a verbal jousting session.
Ryan Seacrest added: "We are very competitive, we do like to compete but it's for fun."
Simon Cowell has previously confessed to getting his wrinkles plumped, saying: "I have not had cosmetic surgery. Yes, I've had Botox, but not in an obsessive way. Then again, every guy I know who works in the City has had it now."
Simon Cowell added: "I like to take care of myself. I work out. I take lots of vitamins. What can I say? I think I look good for my age."
Singer Will Young recently praised Simon Cowell and said that although he is often maligned for his harsh words, he is usually right. Will Young triumphed in the first series of The X Factor forerunner Pop Idol.
Comments
comments