Salma Hayek said her wedding vows in French. The 42-year-old actress – who married billionaire French businessman Francois-Henri Pinault in a surprise ceremony in Paris on Valentine's Day – wore a white gown and carried a bunch of red roses for the intimate ceremony.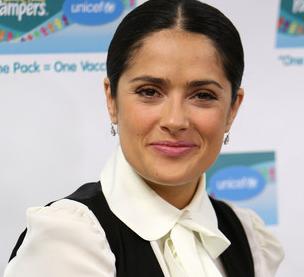 A source said: "The bride was extremely beautiful, even when she was crying tears of joy. They were extremely happy. She said 'Oui' before about a dozen guests."
Salma – who has 17-month-old daughter Valentina with Francois-Henri – invited her mother Diana Jimenez to the service, while her brother Sami served as a witness.
Salma and Francois-Henri – who began dating in 2006 – called off their engagement last July, but eventually decided to get back together after taking two romantic trips to the French capital.
A source explained: "He's the sweetest guy when he's around her. He's good to her, always with her. They take the baby everywhere with him. They're happy together, totally in love."
Comments
comments