Sarah Palin insisted in an interview on Thursday that she did not accept $150,000 worth of designer clothes from the Republican Party and said the media spotlight on the story is evidence of bias against women candidates.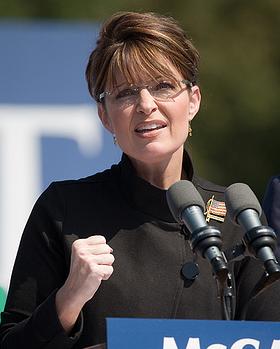 The Republican vice presidential candidate called herself "frugal," insists she did not accept wardrobe from RNC and "that is not who we are." She also revealed: "I think Hillary Clinton was held to a different standard in her primary race. Do you remember the conversations that took place about her, say superficial things that they don't talk about with men, her wardrobe and her hairstyles, all of that? That's a bit of that double standard."
Sarah Palin, who is John McCain's vice presidential running mate, said the clothes were not worth $150,000 and were bought for the Republican National Convention.
She explained that most of the clothes have never left the campaign plane and "that is not who we are, saying: "It's kind of painful to be criticized for something when all the facts are not out there and are not reported. That whole thing is just, bad! Oh, if people only knew how frugal we are."
News of the purchases of designer clothes, largely from upscale Saks Fifth Avenue and Neiman Marcus, contrasts with the image Palin has crafted as a typical "hockey mom."
When asked several questions about the shopping spree, John McCain replied Sarah Palin needed clothes and they'll be donated to charity as he revealed: "She needed clothes at the time. They'll be donated at end of this campaign. They'll be donated to charity."
On how they'll be donated, the Republican presidential candidate explained: "It works by her getting some clothes when she was made the nominee of the party and it will be donated back to charity."
When asked if he was surprised at the amount spent, McCain answered: "It works that the clothes will be donated to charity. Nothing surprises me."
John McCain offered no additional comment except a statement that the Republican National Committee doesn't buy his clothes.
Also on Thursday, Citizens for Responsibility and Ethics, a private watchdog group in Washington, filed a complaint with the Federal Election Commission against Sarah Palin, the Republican National Committee and several political operatives alleging that the purchase of clothing for Sarah Palin and her family violates Federal Election Campaign Act.
The law prohibits a candidate for federal office from converting campaign funds to personal use. CREW notes that FEC regulations make clear the prohibition applies to clothing but also provide that donations by candidates to charity are not for personal use. CREW argued this exception might apply to Palin's clothes but doesn't appear to apply to clothes for her family.
Comments
comments