Democratic presidential candidate Barack Obama's fundraising clip slowed down in October to about a half of his torrid September pace even as he increased his spending to record levels.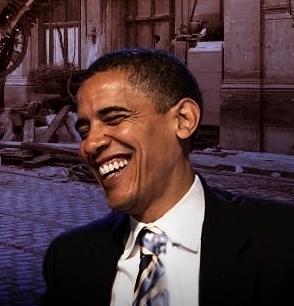 After a massive $150 million cash haul in September, the Democratic candidate sees a big drop in fundraising.
The presidential hopeful reported raising $36 million for his campaign during the first two weeks of October. He spent more than $105 million during that same period, a pace that would more than double his spending from September.
The Illinois senator shattered records and dumbfounded Republicans and Democrats by raising $150 million in September. One-fifth of the September amount came from a joint victory fund that divides proceeds with the Democratic Party. His October report showed no share from the victory fund even though it raised about $27 million during the same October period.
But as the election nears, both Obama and rival John McCain saw their cash on hand dwindle.
Mr. Obama had nearly $66 million in the bank at the end of the two week period. The Democratic National Committee and the joint victory fund reported combined cash on hand of $31 million.
Republican rival John McCain and the Republican National Committee reported having a combined $84 million as of last week to spend before Election Day.
The reports illustrated Obama's superior financial position going into October. He spent more than $80 million on media advertising. McCain, using his resources and the RNC's, spent a combined $38 million on ads.
McCain, who has accepted public financing for his campaign, is restricted in his spending. As of Oct. 15 he had more than $25 million in hand, but more than $1 in million debts. The RNC, which has been helping his candidacy, had more than $59 million in the bank.
At McCain's spending rate of $1.5 million a day, the Arizona senator likely has only $12 million to spend in the next 11 days before the Nov. 4 election.
Barack Obama is not participating in the public finance system, a strategy he used to advantage in September with a remarkable surge of donations. His October fundraising slowed, even though Democrats had hoped that presidential and vice presidential debates held during that period would have spurred additional giving.
The Democratic presidential candidate issued an e-mail fundraising appeal on Thursday, telling supporters that "the margins of victory in crucial battleground states will be small."
He added: "We can't risk coming up short."
Comments
comments