Obamamania met Beatlemania Thursday, as Liverpool hosted an MTV Europe Music Awards show energized by the city's musical heritage and the U.S. presidential election.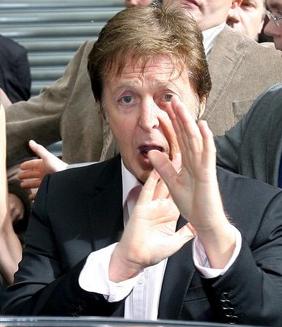 Pink and Kanye West took home prizes — Britney Spears won two — and stars on the stage included Beyonce, Kid Rock and former Beatle Paul McCartney.
But the absent president-elect was given star status, too.
Singer Katy Perry, who hosted the show and also was named best new act, appeared in a dress emblazoned with Obama's face and quipped that "maybe Europeans will love us again now."
Her co-host, 30 Seconds to Mars singer Jared Leto, wore an Obama T-shirt and urged the 10,000-strong crowd at Liverpool's Echo Arena to yell "Congrats, Barack."
Hometown pride was also on display in the Beatles' birthplace, with McCartney receiving an "ultimate legend" award from U2 singer Bono.
Bono hailed the ex-Beatle as "St. Paul McCartney" and the "one person in this hall tonight whose work is immortal."
McCartney's acceptance speech was more modest, saying: "I want to thank my mum and dad," going on to pay tribute to his bandmates in The Beatles, the people of Liverpool and Americans, "for voting in Senator Obama."
Backstage, McCartney said he had a song he thought the new U.S. leader would like for his wife, Michelle Obama — the Beatles ballad "Michelle."
Host Perry emerged at the start of the ceremony in a U.S. football uniform and straddling a giant tube of Chapstick — a reference to her song "I Kissed a Girl" that set the tone for a slick, lightly sassy show with plenty of star power.
Beyonce, The Killers, Pink and Kanye West all performed, West alongside British singer Estelle on their hit "American Boy."
It was West's second onstage appearance at the European awards — but the first time by invitation. The rapper stormed the stage at the 2006 show in Copenhagen after he failed to win the Best Video prize, telling the crowd that "if I don't win, the awards show loses credibility."
This year West was a perfect gentleman, accepting his prize for "ultimate urban" act with a polite "this is for my fans."
The winners of the awards, which are presented in a different European country each year, are selected by fans across the continent. They are broadcast on 21 channels in 40 European countries.
Comeback kid Britney Spears was not on hand to collect her two awards — best act of 2008 and best album, for "Blackout."
Pink's "So What" was named most addictive track, German band Tokio Hotel were named headliners of the year, and 30 Seconds to Mars took home two prizes — the "rock out" award and the trophy for best video.
The "best act ever" prize went to '80s crooner Rick Astley, who is enjoying a career renaissance thanks to the "Rickrolling" phenomenon, in which seemingly unrelated Internet links lead to a video of Astley's 1987 hit "Never Gonna Give You Up."
The ceremony was a source of pride for Liverpool, a gritty, historically rich port city that has been designated European Capital of Culture for 2008.
Comments
comments