The father of Bristol Palin's baby is Wasilla teen, Levi Johnston, according to a source.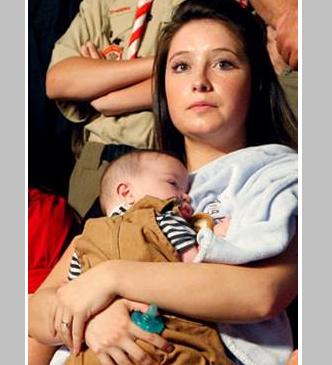 The hockey player attended alternative school Burchell High School last year.
Earlier Monday, Vice Presidential candidate Sarah Palin released a statement confirming that Bristol, 17, was five-months pregnant.
John McCain knew of Bristol's pregnancy when he selected Palin as his running mate last week, according to a news report.
Rumors have been swirling on the Internet that Palin faked her most recent pregnancy to cover up for Bristol, and that Trig, who has Down syndrome, is actually her grandchild.
A senior aide revealed: "The despicable rumors that have been spread by liberal blogs, some even with Barack Obama's name in them, is a real anchor around the Democratic ticket, pulling them down in the mud in a way that certainly juxtaposes themselves against their 'campaign of change.' "
Sarah Palin, who was announced as a running mate by John McCain, will be the first woman nominated by the Republican Party to run on a national ticket.
The vice presidential candidate and her husband Todd are the parents of five children, the youngest of whom was born in April. Both Palin and McCain both have children in the military.
Here's a statement the McCain camp released from Todd and Sarah Palin:
"We have been blessed with five wonderful children who we love with all our heart and mean everything to us. Our beautiful daughter Bristol came to us with news that as parents we knew would make her grow up faster than we had ever planned. We're proud of Bristol's decision to have her baby and even prouder to become grandparents. As Bristol faces the responsibilities of adulthood, she knows she has our unconditional love and support."
The statement also includes:
"Bristol and the young man she will marry are going to realize very quickly the difficulties of raising a child, which is why they will have the love and support of our entire family. We ask the media to respect our daughter and Levi's privacy as has always been the tradition of children of candidates."
Comments
comments