Jamie Lynn Spears is officially a mom after her baby shower last May, according to a report.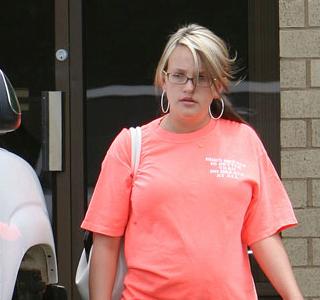 The 17-year-old teen star gave birth to daughter Maddie Briann Aldridge at 9:33am in a hospital near her new home in Liberty, Miss.. The adorable baby girl weighed in 7 lbs, 11 oz.
A representative revealed, "Both mom and baby are healthy and happy. They are surrounded by their close relatives, including Jamie Lynn's older sister Britney, mother Lynne, father Jamie and brother Bryan."
Maddie Briann is the first child for the former "Zoey 101" actress and her fiancé, Casey Aldridge. Britney Spears, together with her father Jamie and brother Bryan, flew into Kentwood on Wednesday to be present for the birth.
She confessed, "I can't say it was something I was planning to do right now. But now that it's in my lap and that it's something I have to deal with, I'm looking forward to being the best mom I can be."
Retreating to her hometown of Kentwood, Jamie Lynn laid low for the rest of her pregnancy, preparing for her summer arrival and getting engaged to Casey, 19. The two recently purchased their first home in Liberty, where they plan on raising Maddie.
In May, she hosted an intimate baby shower that reunited her with Britney, 26, for the first time since October. Big sis even gave the expectant mom some motherly words of wisdom.
Jamie Lynn Spears added, "She told me, 'There are going to be some long nights, but it is completely worth it. Right now, I am so focused on the baby. You never know what may happen a year from now. There is the possibility I'll go back, but right now, I just want to be a good mom."
Now that her daughter has arrived, the actress wants to devote all her time and attention to her bundle of joy. Everything else — including a wedding and her career — can wait.