Vanessa Hudgens became the cover girl of the June 2009 issue of Brazil magazine, Caras.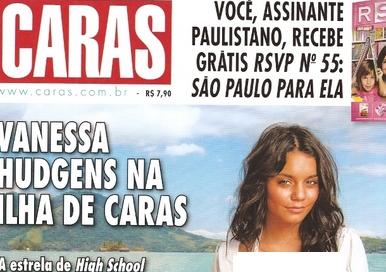 Now we know what the 20-year-old actress and boyfriend Zac Efron were really doing in Brazil!
Vanessa posed for great pictures, which you could see here and she also dished about her music plans, musicals and what she loves about Brazil.
Here are the highlights of her interview:
On experience of HSM that changed her life, "The film opened many doors, helped me sufficiently. But nothing it came of one hour for another one. I come working has much time and the things had not happened of the night for the day."
On if she'd make another musical in the future: "Without a doubt. But right now, I want something more mature to perhaps shock the fans. I'm only 20 and can't play a high school student forever. I want other challenges."
On her next album and musical background: "I started singing because of Celine Dion. I couldn't stop singing her songs, so I became a singer. Also I adore Christina Aguilera and I listened to her album, Stripped. I thought, 'She is this insane person,' but I love her sound. I want to discover my style and when people hear it, I want them to know that it's me. For the next record, I plan to write songs based on my experiences."
On what she loves about Brazil: "[It's] incredible. The water is clear and pretty. It's not cold as Los Angeles (in January). I use these trips to my advantage so I can relax and find a peace of mind. It is good because I come back refreshed. In the States, it's still a bit cold and I adore heat. I love walking barefoot and having contact with nature here, but I don't like the ants."
On how she keeps her form, "I make pilates and I go for academy. Taste cycling, scaling. To the times, four times per week, to the times none. But I feel myself healthful when I go. In relation to the feeding, my secret is to eat small portions. New, she was the queen of candies and junk food. Still taste, but I know of my limits."
On the obligation to she has to give to the example of her fans, "Gabriella, my personage in the HSM, is an excellent example. As Gabriella, I am tranquila well… (laughs). More I am deloused, created in California."

On if she is going to act again with boyfriend, Zac, is in the plans, "Why not? It would adore to work with it of new, in the same way that it would be happy with all of the HSM. "