Zac Efron has admitted that dancing does not come easily to him, and that he has to work hard to master the film's complicated routines.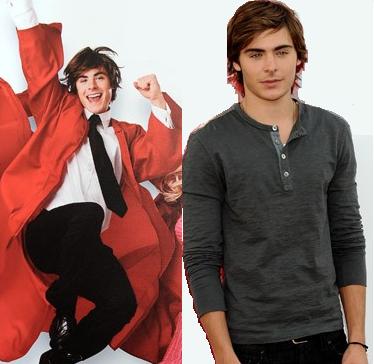 The 20-year-old actor revealed: "I'm definitely not a dancer. I grew up being into sports and I wasn't trained to move my body in the right way for dancing. I'm the last one to get any move correct. In rehearsals it's always, 'OK, one more take for Zac'. "
The premiere of the third film in the series, "High School Musical 3: Senior Year", is held in London today. It appeared that Troy, which is the character played by Zac Efron, was torn between a future in acting and basketball.
Perhaps the choice was not a difficult decision for Zac Efron in real life. The "High School Musical" star explained: "I played for a few years when I was at school. I remember a championship game when I was in the sixth grade. I gave away the ball at the last second and the other team scored. I lost the game for my team. It was pretty bad. It's much more fun now because it's usually in the script that we win."
The actor wanted to concentrate on acting, saying: "I look at other jobs in the world and I'm just very grateful that I get to do this every day, to sing, dance and be with my friends. It's crazy that we even get paid for it. I never set out to be a star or one-up anybody. Acting was just something I loved to do and always had fun with. That has been like a rule to me, to always remember that. I've never done things based on money. I've always tried to do the sort of things I'd dig myself and that I'd like to watch. I also think there's a lot of luck involved, being in the right place at the right time."
But it hasn't all been good news for Efron. One foreign newspaper reported that he had died, causing distress and confusion among his young fans.
He shared: "I was really shocked to find out – and my mom was real upset too when I called and told her."
On becoming involved with his High School Musical co-star Vanessa Hudgens, 19, who plays Gabriella; the actor admitted: "We are just very comfortable together as friends, as actors. We are used to it now. We have done quite a bit. It is not like being with a brand new person. We have grown to a certain level of comfort in these past movies over the years. Now it comes very naturally acting together."
High School Musical 3 opens in the UK on October 22.
Comments
comments