Beyonce Knowles graces the cover of the UK edition of "Marie Claire" magazine for its October 2008 issue.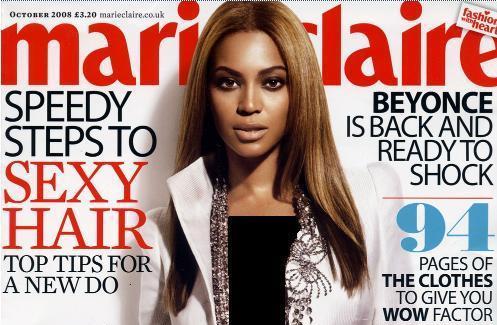 The "Bootylicious" singer, who turned 27 years old today, revealed that she is over being a pop star and now wants to be 'a legend, an icon.'
The singer and actress said in an interview of the magazine: "I'm over being a pop star. I don't wanna be a hot girl. I wanna be iconic. And I feel like I've accomplished a lot. I feel like I'm highly respected, which is more important than any award or any amount of records. And I feel like there comes a point when being a pop star is not enough."
The singer also speaks proudly about her success: "I am really proud that I am one of the artists that has the opportunity to be on magazine covers and to be in the movies. And I do think that I'm opening doors for more black women, just like Halle [Berry] and Diana Ross opened doors for me.'
The seven Grammy award winner, who is set to release her next album in November, will be seen in the upcoming biographical film, Cadillac Records, a musical drama written and directed by African-American film director Darnell Martin. Beyoncé Knowles had to put on 20 lbs for her role playing soul singer Etta James.
She had to then quickly loose that weight for her next film, "Obsessed", a thriller directed by Steve Shill and written by David Loughery.
Comments
comments