Many celebrities joined thousands of protesters are angry about California's ban on gay marriage as they grieved the passing of Proposition 8 in California this week.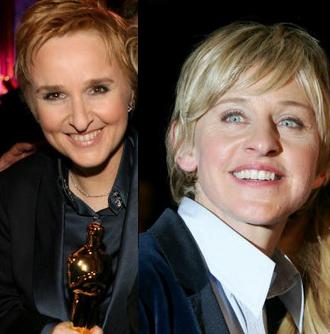 Celebrities like Wanda Sykes, Rose McGowan and Lance Bass attended a Wednesday protest criticizing the state's gay marriage ban. Other celebrities such as Ellen DeGeneres, Rosie O'Donnell, Samantha Ronson and Melissa Etheridge vented their frustrations online, on television and onstage.
Blocks away from the Thursday rally of more than 2,000 gay-rights advocates outside the gates of a Mormon temple, several stars, including James Cromwell, Patricia Clarkson, Anjelica Huston and Sean Penn, revealed they supported the protesters while walking the red carpet at the BAFTA L.A. Brittania Awards at Hyatt Regency Century Plaza Hotel.
Sean Penn revealed: "I think it might be an idea to go out and join them shortly. It was a shameful decision that was made."
Melissa Etheridge wrote: "I don't mean to get too personal here. But there is a lot I can do with the extra half a million dollars that I will be keeping instead of handing it over to the state of California. Oh, and I am sure Ellen will be a little excited to keep her bazillion bucks that she pays in taxes, too."
Ellen DeGeneres wrote: "So there was a demonstration here on Wednesday night and just before I walked out here, I was watching the news and there is a huge, huge, peaceful demonstration going on in the streets, and I say, good for you, and I support you, and if I weren't here, I'd be out there with you."
Other celebs used time in the spotlight to decry the decision. Madonna took a moment during her concert at Dodger Stadium to declare to the audience that she was sad "because African-Americans are equal finally, but gay marriage is not." Former teen queen Christina Aguilera also spoke out against the ban.
Christina Aguilera said: "I think it's discrimination. I don't understand how people can be so close-minded and so judgmental. We chose an African-American president who means so much in a time in history of great change and open-mindedness. Why is this any different? It just doesn't make sense to me."
Comments
comments