Chris Finegan, who watched Heath Ledger's stunning portrayal of the Joker on Friday in "The Dark Knight," couldn't help but think of another actor who wasn't on the screen – James Dean.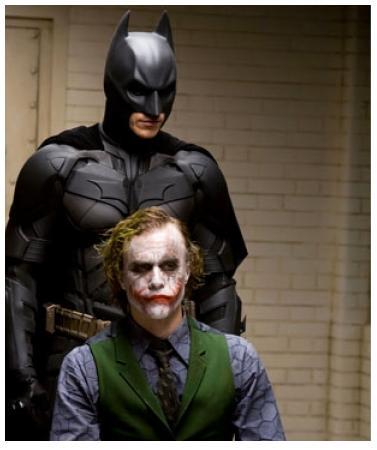 Chris explained: "Heath Ledger is going to have the same impact on our culture as James Dean did."
Alex, who is the 18-year-old son of Chris Finegan, revealed: "He went out with a hell of a bang."
The 18-year-old son, who wore a T-shirt emblazoned with Heath Ledger's leering Joker face in cracked white makeup and those red lips frozen in a sickening smile, saying: "He stole the show. It was everything I expected and more."
Manhattan movie theaters are not usually packed at 9 a.m. on weekdays, but there was not a free seat to be seen at the AMC Lincoln Square multiplex on Friday morning, and lines lengthened all day.
Many fans were back after trying and failing — like the Finegans — to get into packed midnight performances.
Media By Numbers, a tracking firm, said the Warner Bros. film, directed by Christopher Nolan, set a box office record for a midnight debut, bringing in $18.5 million Friday from midnight screenings in 3,040 theaters — many of them open 24 hours. That bested the 2005 performance of "Star Wars Episode III: The Revenge of the Sith," which took in $16.9 million at its debut. "The Dark Knight" figure didn't include any of its 3 a.m. or 6 a.m. showings.
Susan Pepsin, 31, revealed: "When we were leaving at 3 a.m. people were still streaming in."
Of course, as the latest installment in the Batman series, "The Dark Knight" likely would have been an event even without the added interest over Ledger, who died at 28 in January of an accidental prescription drug overdose. But Ledger seemed at the top of everyone's mind. During the show, fans applauded many of the actor's particularly demonic moments.
Michael Loizon, who was a 23-year-old asset manager in Manhattan, revealed: "He was unbelievable. I had no idea he'd be THAT good."
His and his colleague, Michael Holmgren, played hooky from work to see the film. They didn't get in trouble, though — their boss came, too.
John Pileggi, who was a big comic book and action-film fan, confessed: "I was the ringleader."
On Heath Ledger's performance revealed: "It was intense, overwhelming. It's sad to say that it was the role of his life, because his life is over. He was so young. I have a son about his age, so I kept thinking about it."
Katie Burns, who went to a midnight screening in Paramus, N.J., revealed: "The whole time you know it's Heath Ledger, but at the same time you have to remind yourself that it's him. He is so convincing."
Pepsin said her screening in Hollywood was interrupted by a fire alarm — and even that didn't ruin it.
Pepsin, who was a financial planner, said: "The character is so crazy, I felt at times, Oh my God, I can't believe I'm watching this. These are images that will stay in my mind for a long time."
Jared Yates, who was an engineer in St. Louis, Ledger's performance was "perfect," and there was only one moment where he was reminded — and jarringly, too — of the actor's death. He added: "It was where Joker tells Batman that the two of them 'could do this forever." Of course, the moviegoer was reminded that that wouldn't be possible.
Comments
comments