Geraldo Rivera, who was reporting live from Galveston, Texas, was knocked over by the storm surge ahead of Hurricane Ike.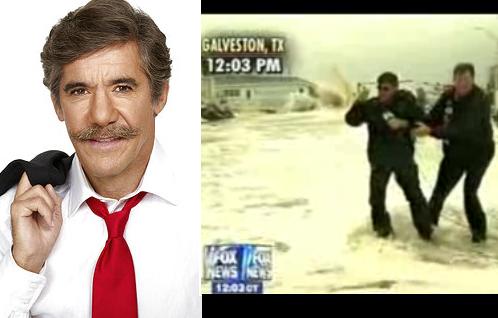 The 65-year-old reporter for Fox News got smacked around while reporting on Hurricane Ike from the Galveston, Texas sea wall.
It is a good thing that a concerned fireman nearby came rushing to his aide. Geraldo Rivera made a funny remark: "I know I'm going to be the star of YouTube now."
Perhaps he was correct since the video of the uncanny incident of smacking was included in the youtube.
Meanwhile, Hurricaine Ike is roaring towards Texas and on the cusp of strengthening to a "potentially catastrophic" category 3 storm, forecasters and politicians have warned.
A total of 90,000 people have opted to stay in their homes to brave the storm, which has sent a surge of five meter waves ahead of it that has already crashed through the seawall at Galveston and caused widespread flooding in low-lying areas.
With winds of at least 111 mph (178 kph), authorities fear it could be the worst storm to hit Texas in nearly 50 years.
Michael Chertoff, who is the US Homeland Security Secretary, revealed: "Our nation is facing what is by any means a potentially catastrophic hurricane. This certainly falls in the category of pretty much a worst case scenario."
The National Weather Service warned that people in coastal areas could "face the possibility of death" from the storm surge.
Officials said Ike could flood as many as 100,000 homes and send a wave across 100 miles of US coastline.
People living in Houston, the second busiest US port, have been advised to stay at home to avoid gridlock on the roads, but forecasters have said the city could be caught by the storm surge.
Comments
comments