Heather Locklear was arrested on suspicion of driving under the influence of a controlled substance in the upscale Santa Barbara area, authorities said Sunday.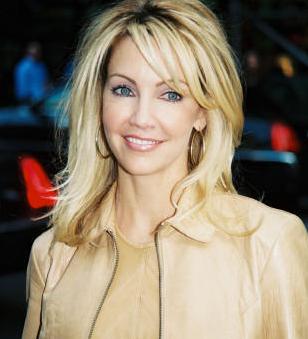 The 47-year-old actress was pulled over by a California Highway Patrol officer Saturday afternoon after a resident reported seeing the actress leaving a parking lot and "driving erratically," according to the patrol spokesman Tom Marshall.
The officer noticed Heather Locklear's car parked on a state highway and blocking a lane in Montecito, a wealthy community about 90 miles northwest of Los Angeles. She was believed to be alone in the car, according to the patrol spokesman.
Tom Marshall revealed: "In talking with her, (the officer) determines that she seems to be under the influence of something."
Heather Locklear was taken to the police station, where she was tested for alcohol and drugs. She was booked at 7 p.m. on suspicion of driving under the influence of prescription medication. She was later released from custody.
Calls to the publicists of Heather Locklear were not immediately returned.
Her television credits include "T.J. Hooker," "Dynasty," "Melrose Place" and "Spin City," and her film roles include "The Perfect Man" and "Uptown Girls."
Heather Locklear checked into a medical clinic in June to seek treatment for anxiety and depression. She got a divorce last year from Bon Jovi guitarist Richie Sambora after 11 years of marriage. They have a daughter, Ava Elizabeth.
Update: New details on her DUI arrest emerged that includes a 911 call and the battery of tests the actress underwent Saturday evening.
A spokesperson for the California Highway Patrol confirmed that a 911 call was made by a concerned citizen around 4:30 PM Saturday after she observed a woman acting strangely and driving erratically as she left a parking lot in Montecito, California- an upscale town adjacent to Santa Barbara.
Among the details, the CHP representative revealed Heather Locklear was observed by the citizen as backing over a pair of sunglasses several times while she was attempting to maneuver out of the parking area.
When an officer arrived, Heather Locklear had moved to the nearby Highway 192 where she was stopped in a travel lane. A CHP officer asked for her license, registration and proof of insurance and identified her as Heather Locklear.
Comments
comments