Lehman Brothers declared bankruptcy on Monday as the US crisis greatly affects the European stocks.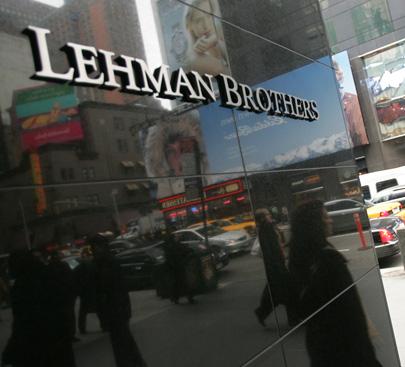 Lehman, which is a 158-year-old firm that started as an Alabama cotton brokerage, failed to find a buyer after the U.S. government refused to provide a financial backstop to potential buyers.
Merrill Lynch announced a rescue sale in a series of dramas in the US financial system which hit European stocks as soon as trading began.
The unexpected fall of Lehman Brothers, which is considered to be one of the highest profile investment institutions, happened when a frantic weekend marking a dangerous chapter in the financial crisis sparked by failings in the sub prime home-loan market.
In Frankfurt, the European Central Bank expressed that it was ready to intervene again on the money market. A group of banks set up a 70 billion dollars global emergency fund and reports said insurance giant AIG had asked for a 40-billion-dollar loan to ward off its own disaster.
The US Federal Reserve also acted with an easing of collateral for the provision of loans to avert systemic breakdowns; and the events immediately shook European stock markets.
The London market opened with a fall of 2.28 percent on the FTSE 100 index of leading shares, in Frankfurt the DAX index fell by 1.55 percent and in Paris the CAC 40 index fell by 2.48 percent.
In the United States, Lehman said the bankruptcy was authorized by its board of directors and will take place at the US Bankruptcy Court for the Southern District of New York on Monday.
The bank said in a statement it was acting "in order to protect its assets and maximize value."
Their statement indicated: "Customers of Lehman Brothers, including customers of its wholly-owned subsidiary, Neuberger Berman Holdings LLC, may continue to trade or take other actions with respect to their accounts."
The beleaguered bank lost an estimated 3.9 billion dollars (2.7 billion euros) in its fiscal third quarter amid fresh write downs on mortgage assets.
Last-ditch efforts to find a buyer collapsed Sunday. A London source at British bank Barclays said it walked away from negotiations because of concerns it would have to guarantee the 158-year-old US firm's trading commitments.
Bank of America said it was buying Merrill Lynch for 50 billion dollars in a transaction that creates the world's largest financial services company.
The acquisition gives Bank of America the largest brokerage in the world with more than 20,000 advisers and 2.5 trillion dollars in client assets.
The shake-up came as the US Federal Reserve, eager to cushion the impact of the Lehman blow, said it was easing collateral requirements for the firms as it acted "to identify potential market vulnerabilities in the wake of an unwinding of a major financial institution."
The collateral for the special emergency loans will be expanded to all investment-grade debt securities, the central bank said. Previously, only Treasury securities, agency securities, and AAA-rated mortgage-backed and asset-backed securities could be pledged.
Treasury Secretary Henry Paulson, who was included in weekend discussions in New York to avert a new financial shock, revealed that the actions "will be critical to facilitating liquid, smooth functioning markets, and addressing potential concerns in the credit markets."
Analysts expected Lehman's bankruptcy filing could affect a range of companies dealing with the Wall Street giant and could worsen the global credit crunch.
The Securities and Exchange Commission said it was "taking actions" to protect the deposits of Lehman's customers, who are protected by SEC rules and an insurance fund.
In a related action, a consortium of 10 global commercial and investment banks announced plans to provide 70 billion dollars to help offset a credit squeeze.
Bank of America, Barclays , Citibank, Credit Suisse, Deutsche Bank, Goldman Sachs, JPMorgan Chase, Merrill Lynch, Morgan Stanley, and UBS, revealed in a joint statement they "initiated a series of actions to help enhance liquidity and mitigate the unprecedented volatility and other challenges affecting global equity and debt markets."
They agreed to create a "collateralize borrowing facility" of 70 billion dollars, with each bank contributing seven billion dollars, to help ease access to credit. They also express their eagerness to work together "to help facilitate an orderly resolution" of the derivatives exposures between Lehman Brothers and its counter parties.
The statement also indicated: "These actions reflect the extraordinary market environment."
The 10 banks would be able to tap this facility, with any bank eligible for up to one-third of the fund. The amount may be expanded if more banks join the program.
Michael Panzer, who is the author of the book "Financial Armageddon," wrote in his blog: "It seems clear that a category five storm is making landfall in the US financial system and a lot of very messy stuff is hitting the fan."
Meanwhile, Lehman Brothers Holdings Inc. (LEH) Monday also expressed their intention to file a petition under Chapter 11 for bankruptcy protection.
In a statement, Lehman said that none of its broker-dealer subsidiaries or other subsidiaries would be included in the bankruptcy filing and will continue to operated. The ailing investment bank is continuing efforts to sell its broker-dealer subsidiaries, as previously announced, and is in advanced discussions with potential buyers for its investment management division.
The statement also revealed: "Neuberger Berman, LLC and Lehman Brothers Asset Management will continue to conduct business as usual and will not be subject to the bankruptcy case of its parent, and it portfolio management research and operating functions remain intact."
It was also reported that The Wall Street Journal gave a warning in an editorial Monday that Americans should brace themselves for "a very rough Monday" and called for more government actions in support of Wall Street.
Comments
comments