Diet or excercise? Not for Lindsay Lohan, who continues to chalk up her recent dramatic weight loss to good old-fashioned stress.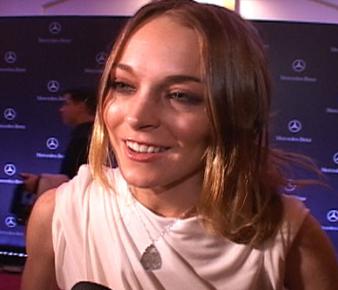 In an interview, the thin 22-year-old actress is being overwhelmed by "a lot of meetings for movies and stuff," but she insisted that she did not change her eating habits.
She said at the Mercedes-Benz Oscar party at the Montage Beverly Hills, where she was excited for Sean Penn's big win: "I haven't changed my eating habits."
So has she upped her gym routine? Lindsay Lohan dished the scoop: "I go to yoga once a week, but I don't go more than that because I'm too lazy," adding that her recent weight loss is probably due to stress.
So what's she stressing about? She explained: "A lot of meetings for movies and stuff."
While there are no news of any new movie castings for the actress, she has a few other non-cinematic projects in the works, including a self-tanning line for Sephora and a diamond jewelry line.
Lindsay Lohan stayed mum on what makes her relationship with Sam Ronson work, but clearly she's supportive of her girlfriend. She arrived with Sam, who was deejaying the party, and hung by her side most of the night, refusing a glass of champagne offered by an unknowing waiter. Maybe she should have snagged some hors d'oeuvres.
The Mercedes-Benz party, where Bridget Moynahan and Padma Lakshmi were also hanging, wasn't the only affair on Lindsay's list. After Sam finished spinning, the couple was headed to Madonna's exclusive afterparty for more fun.
Comments
comments