Simon Cowell, the "American Idol" judge, has increased his rank in the Britain's Rich List after amassing a $200 million fortune.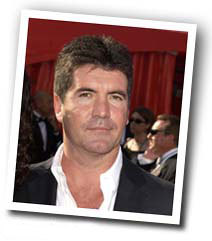 Simon is currently the 700th richest person in Britain, shooting up an incredible 244 places from 944th in the annual poll conducted by Britain's Sunday Times newspaper.
The "American Idol" judge increased his assets by 80 million dollars in the past 12 months, almost doubling his bank balance, due to the success of the U.S. television talent show and several hit programs made by his U.K. production company SYCO, including "X Factor." He also signed a staggering $40 million deal with British TV network ITV.
An industry source revealed, "Simon Cowell is the man with the Midas touch. Not only for him but for ITV, too. He's simply the hottest and most important showbiz talent around right now."
Simon, 46, has now superseded singer Robbie Williams, whom Simon recently told to "get a grip" when the singer entered rehab for addiction to painkillers.
The troubled star only increased his wealth last year by $10 million to $190 million after his album "Rudebox" flopped.
Sir Paul McCartney, who recently hit the headlines with divorce, is the richest man in pop with $1.5 billion, which secured him in 102nd place of the list.
Lakshmi Mittal, a steel tycoon, holds the number one spot, 56, who has amassed an amazing $38 billion.
Comments
comments